Technically it is what you call a "Shoetie" - still am not a fan of the word just like "jeggings" but I will admit they are both kind of fun saying.
So here's a shoe I picked up at the Vince Camuto factory store at the Citadel Outlet in Los Angeles.
I forgot what this style was called but it is technically a sandal/bootie hybrid, "Shoetie" and I lifted the bottom of my skinny jeans just to show the buckle detail. I've been really into buckles lately. Surprisingly, these shoes are easy to walk in - heel placement? I'm not going to walk to the train station in the office in them (6mn walk) but it's nice to know that the heel feels sturdy, unlike the heel of my BCBGirl pumps. I have been wearing them with my jeans (bootcut/skinny), ankle work pant and even pencil skirts (at the knee or right above).
The best part - $40! Maybe that's why I love these shoes the most out of my new shoe haul. Also, they make me feel girly and ultra sassy.
I figure that a sassy shoe deserves an equally sassy lipstick:
MAC Lickable creamsheen (bluish fuchsia) along w/MAC Beet lip pencil
Other colors used:
Chanel Illusion D'Ombre - Emerveille (all over eye)
MAC Fluidline gel liner - black
Chanel Inimitiable Mascara - Noir/NARS Larger than Life Lengthening mascara
Chanel Jouer Contraste - Rose Tourbillon
Happy Friday!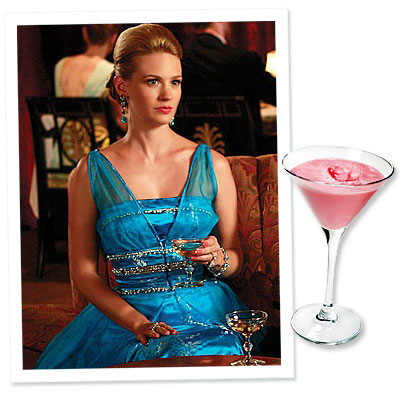 (image provided by InStyle.com)
I'll have what Betty is having, I'm assuming it's a Gin Martini - the pink thing on the right looks like a smoothie!